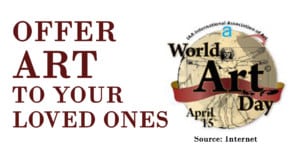 Dear Friends,
Mauritiusarts welcomes the extremely positive feedback from our followers on the content of Art Talk
and the website as a whole, opening a large panorama of Mauritian paintings to them through its user-
friendly navigation.
Sales has started some time back from those renovating their houses. We made suggestions fitting to
their budget, and the final decision to harmonise the paintings with the hues of their rooms rested with
them.
The site has a price range line filter, where you can view paintings matching your finances. We have
paintings starting at Rs 2500, going up to Rs 100,000.
As from this issue of issue of Art Talk, we'll bring to you some interesting art tips in our Art Matters
review. Enjoy!
Artist of the Week
Salonee Lallah
Salonee Nirsimloo Lallah – Indian Mask – acrylic on canvas

Paintings

Rs

14,850
Since her first solo exhibition, aged only seventeen, Salonee Nirsimloo-Lallah has developed, over the years, her own visual identity, drawing from mythical sources, geographical or psychic spaces and a colour palette sometimes infused with a dreamy melancholy, and sometimes exploding with a violent inner density. Constantly reinventing herself, the artist nevertheless continues to look unflinchingly and passionately at her native island and the richness and complexity of its numerous identities in order to create a body of work that never ceases to surprise.
Art Agenda
KANN
Exposition gratuite au Blue Penny Museum,
du jeudi 22 mars au samedi 12 mai 2018
Avec Deepa Bauhadoor et Marina Carter
Quand nous parlons de l'histoire de l'Ile Maurice, nous devons impérativement parler de la canne à sucre ! Il ne s'agit pas seulement là, du facteur majeur du développement économique, mais tout autant sinon plus, de l'image mentale presque emblématique qu'elle constitue désormais dans l'inconscient collectif des Mauriciens. Imaginer l'Ile Maurice sans canne à sucre serait proprement impossible, car
elle nous accompagne au quotidien et rythme même les
saisons de notre paysage commun.
Il s'agit donc, avant tout, de notre patrimoine, d'un symbole
fort de notre identité collective façonné par des générations
de laboureurs, femmes et hommes, qui ont œuvré à la sueur de leurs fronts afin d'extraire de la terre le sucre souvent amer de leur difficile subsistance.
Cette plante, simple herbe géante, presque subliminale de notre
culture, façonne ainsi notre Ile Maurice intérieure, autant qu'elle fut
elle-même façonnée par nous, au point qu'il devient impossible de
nous en dissocier.
Kann, c'est une exposition qui vise à recomposer ce paysage mental en mêlant  à l'histoire sa version artistique contemporaine. D'un côté, Deepa Bauhadoor, artiste d'aujourd'hui qui reconstruit et recompose à sa façon le projet esthétique d'une histoire naturelle dépassée et sublimée et dont les brosses semblent patiemment reproduire le mouvement des cannes elles-mêmes. De l'autre, Marina Carter, historienne, qui tente de restituer par le verbe le dur travail des laboureurs anonymes.
Gravures anciennes, photos jaunies tout comme des reconstructions contemporaines, pour nous dévoiler le temps de notre indépendance et de ses 50 ans, comment cette plante a pu se conjuguer avec notre quotidien à tous, nous, les Mauriciens.
Elle a influencé nos poètes et nos romanciers, elle inspire aujourd'hui nos artistes. La canne, recouvrant la majeure partie du territoire physique de l'île, par son manteau vert tendre, par-delà l'horizon que nous offre notre regard, fait bel et bien partie de notre île Maurice à tous.
Art Events
In the Fields of Empty Days and The Book of Kings
While turmoil between Iran and the US intensifies, with President Donald Trump's nuclear deal repealed and a Supreme Court hearing over his travel ban on eight mostly Muslim countries, a groundbreaking exhibition mixing historical and contemporary Iranian art is opened to VIP guests in Los Angeles.
Created in 2012 in response to the Arab Spring uprisings, a year earlier, Shirin Neshat's photographic series, The Book of Kings, references of the ancient book of Shahnameh, an epic composition by the Iranian poet Hakim Abul-Qasim Mansur (later known as Ferdowsi Tusi).
Thanks to our sponsors and partners